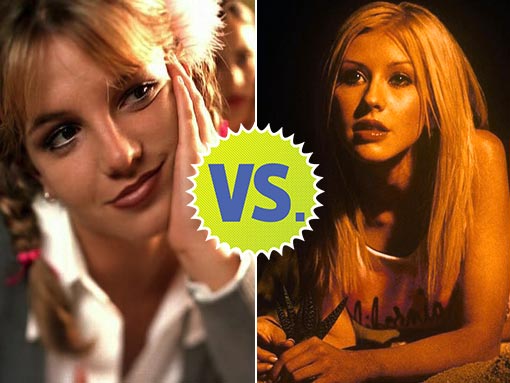 The 90's were the time weren't they. This was the time the biggest pop princesses came out on your TV screen. But did you know, and you probably do, is that both these girls were on The Mickey Mouse Club. These were the days before TRL. I loved watching the Mickey Mouse Club and also the old cast JC Chasez, Justin Timberlake from Nsync. Those boys were so hot, but back to the pop princesses.. I remember when I would watch Carson Daly's MTV Total Request Live. AKA TRL. I can remember you used to have to call or email for your favorite video. Let the bidding wars begin. These two pop princesses were massive. I remember hearing Britney Spears Baby one more time, and was like who is this. This video is new, but American needed some music that was not grudge. Britney was pretty innocent in this video, where you can see her dancing on the basketball court in a high school. I thought she pulled it really well.
Then later you see cutie pie Christina Aguilera jump right in with her huge hit Genie in a bottle. You see her roll around in the sand, and dance on the beach. Then in 1998 you really see the girls complete with their fans deciding who is a better singer, or dancer. Were you one of the girls who used to wear those leather pants to try to look like Britney or Christina.? I remember having a few pairs of leather pants myself. Now I would be caught dead wearing them. It's amazing how styles come and go. These girls knew how to turn up the heart.
One of my favorite Christina Aquilera songs from her first album is "I turn to you? My favorite Britney Spears song from her first album is "baby one more time". I don't listen to them as much as I used to, but I still think they are excellent singers.